Archiving/Deleting Teacher Accounts
Sign in as the current Wordshark Online administrator

Select 'Groups & Users' from the main top menu




Select the 'Manage Teachers' tab
Locate the teacher account in the list

Select the blue arrow for 'More'
Choose the delete option
You will receive a warning

–

the default is to archive. C

hange the option from 'Archive' to 'Permanently delete'

if you wish to remove the teacher completely. This cannot be undone.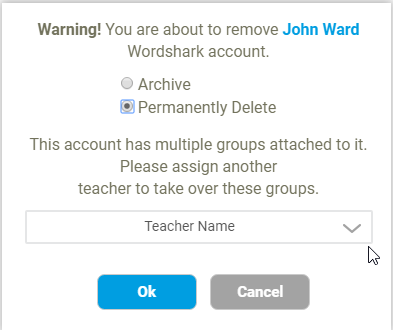 Any pupils they currently have assigned to them will need to be transferred to another teacher - Select a teacher from the drop-down options to transfer the pupils to. They can be reassigned if necessary.

Click 'Ok' - a green 'Teacher deleted permanently' will appear above the buttons and the warning box will close.
Related Articles

Adding a New Teacher Individually

VIDEO: How to add Teachers individually: Adding a new Teacher to a school account: A school account allows you, the Administrator, to add multiple Teachers who can then manage their own Groups of Students. To set up a Teacher profile You will need ...

Removing (archiving) students

Removing (archiving) students Sign in as an administrator or teacher Select 'Groups & Users' Select 'Manage Students' Select one student at a time. Note: it doesn't matter if the student is in more than one group, but let other teachers know if they ...

Can I resend the welcome e-mail for a teacher? (for school admin only)

Can I resend the welcome e-mail for a teacher? It is not possible to resend the e-mail for the teacher but you can either: 1) Check the date the e-mail was sent so the teacher can check their inbox/junk 2) Delete the teacher and recreate their user ...

Archiving Students in Bulk

To archive students in bulk: Sign on as Wordshark Admin. Select Groups & Users and select the button Bulk Move/Archive Select the group on the left to archive Select the students (All or individually) Tick the 'Archive students' box on the ...

Forgotten Password - Administrator/Teacher

To reset your password if you are an administrator or teacher Go to the sign in page for your school At the sign in screen, instead of entering any details click on 'password' under the sign in box You will be prompted 'You are in the right place if ...
Still need help?
We will get back to you as soon as we can.